had a strip job today,,, you ever wonder why we charge for removal? ever wonder how Bad Window Film is removed? what goes into getting the Film and Glue all cleaned up? here's another one for ya, ever wonder how long the cheapest tint jobs last?
well here ya go,, pics and videos ,, take a moment to see what went on with this removal.
I started to pull the film off the driver door and the top layer wanted to seperate from the "color" layer,,, I already knew which method I wanted to use,,, the heck with smelling that nasty "ammonia" or any other harsh chemical.
so I grabbed the steamer and went to town,,, I first pulled the "clear layer" down and let it over hang the door panel and applied steam directly to the "film layer" ,,, worked it a little bit and off it comes ,, "glue and all" .,...
on the rear glass I knew what I was going to have,,, a 1 million piece mess, ,,, no worries I had this beat!! I pulled the "clear layer" down to cover the rear deck for the mess to come :mad ,, this is usually the part where the other guys give up,,
I started in one spot and just worked with it until I had 98% of the "film layer" off the glass using Nothing but the steamer and a "pink chizler" .. this method worked the best this because of the film being so brittle,, it just wanted to come off in a "million pieces" ,, however it left "all the glue"
ok ,NO worries! I got this alllllllll taken care of,,, Remember the "Clear Layers" ,,, used to catch the mess to come,, hehe ...
I used this "stuff' called "Tuff Stuff" ,( foaming carpet cleaner ),,, sprayed the glue and proceeded to whip it off, "literally", thats all it takes!, Glue is gone ,, I did a "once,twice over" with my soapy solution for the final clean,, the rear defrost lines are still in good working order because the removal was done in the safest way possible. I enjoyed this removal because it made me feel better about saving my customers from having this kind of headache with there tint job in the future. Unfortant for this customer, she did not have any warranty paper work given to her only the magic words "we offer life time warranty with our tint" where spoken and that does not count when if comes to warranty claim.
front driver door
rear glass from outside
from inside looking out
the fun begins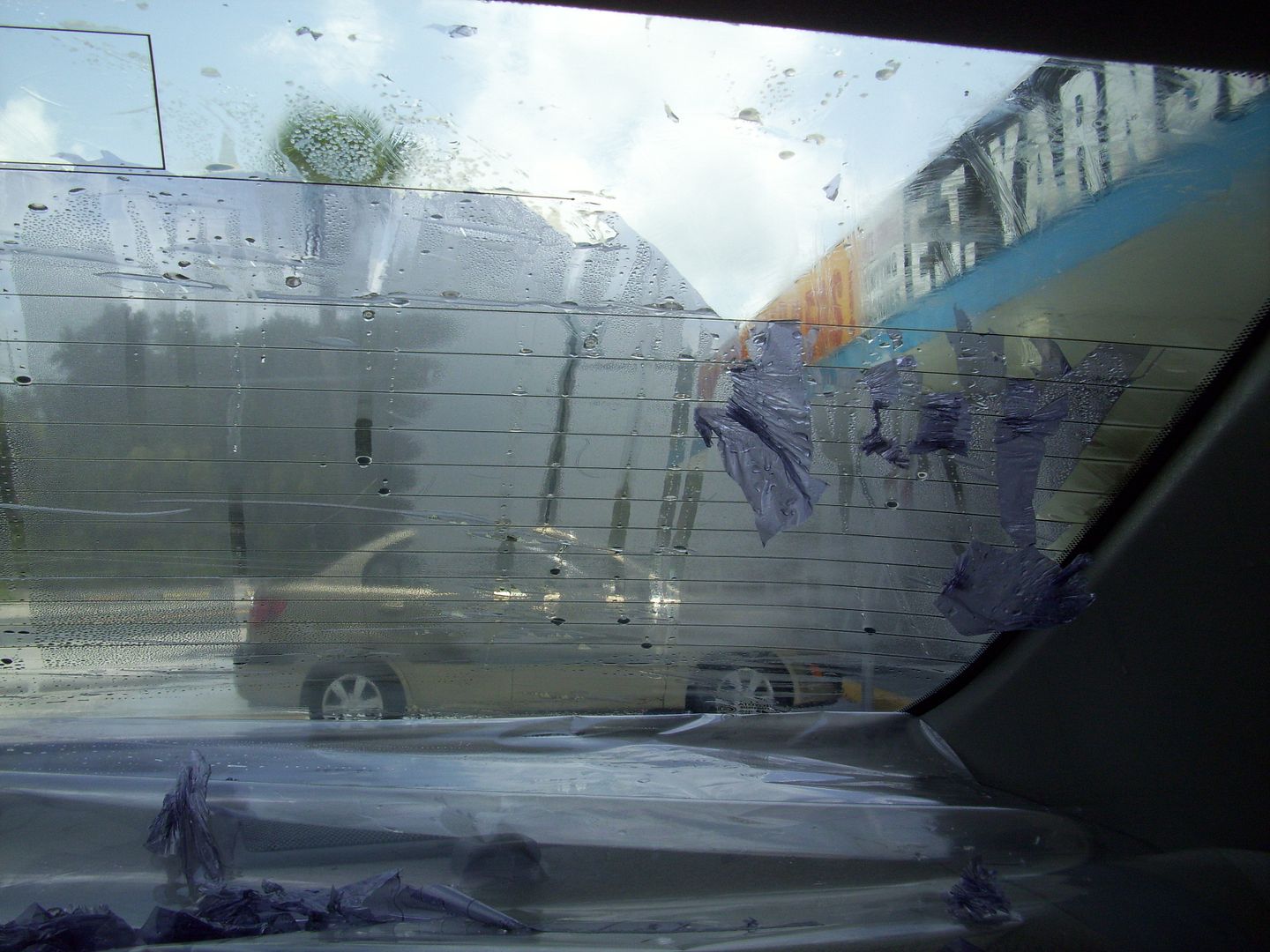 Look at all that nasty glue :boogie I used the "clear layers" from the side doors to catch any mess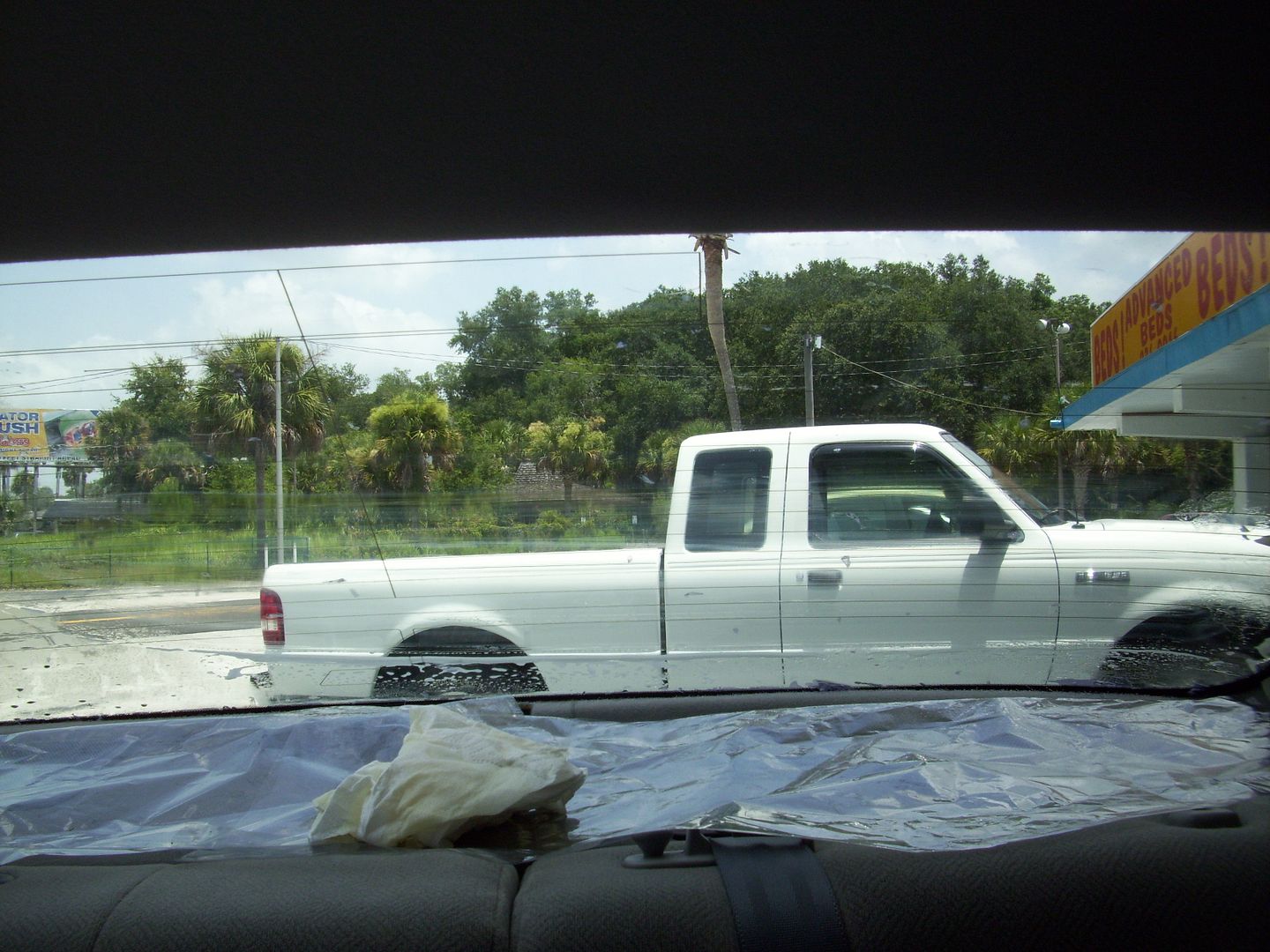 All Done with this removal,,,
In my closing thoughts on this Window Tint removal I began to think about how it really bothers me that the average consumer keeps there Car for 2-3 years anymore, Maybe that's the reason why "over 80% of phone calls or drive by and walk in consumer's are only interested in the Price" and the other 20% have been down that road of "going with the Cheap guy" in the past and know what they would be getting if that was the only choice out there.
Well there's definitely a choice when it come's to spending your own money, but the problem is which deciding what part to compromise "Price" or "Quality" because that's where the "Cheap guy's" make there decision on what Window Tint to offer the "Average Consumer".
Here are a few tips on how to "AVOID" paying for a Cheap Window Tint like whats above in the pictures.
First thing you need to ask,, Brand Name & "Particular Film Name".
why is that SO IMPORTANT? simply because you can actually do your "Homework" on the Window Tint before you purchase it.
Reason behind "My Encouragement for you to do your Homework"
NOT all films come with a "Lifetime Limited Warranty" some only have a "3 Year Limited Warranty" or less.
Last thing you should do is Make Sure you have all your "Paper Work" before driving off with your New Tint Job, without All Warranty information filled out completely in hand at the time of install then you really have No warranty! Not one Window Film manufacture will warranty a tint job with there product without "Complete Warranty information".
Believe me when I tell ya! This kind of "Homework" will help you get you Best Bang for your Buck and with that being said, Go do your Homework. :) Or just come see me..
If you have any questions about a Window Film your interested in I'll be happy to help in anyway please visit my website for details and more. http://www.ocalatint.com/
Thanks for reading